Alijojo Properties, New Prague MN
Thanks so much for designing the perfect, timeless sign that compliments beautifully the style and age of the building and town.
Creative Design and Marketing Communications Manager, MGC Diagnostics
OMGOSH!!!!! Our lobby sign looks AWESOME!!!! Absolutely love it…simply amazing. Everyone, and I mean EVERYONE, absolutely loves our lobby sign! Holy macaroni, it is so flipping cool! Thank you so much for doing what you do – there is no way I could have found anything half as cool.
I am beyond blown away! I had to hold back tears I'm so happy! Don't change a thing…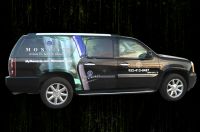 Working with Rob and Mark was a real pleasure. They made everything easy, even coming to my workplace to measure the vehicle, ensuring a precise installation and accurate quote. Withing a couple days, the buzz around the wrap was obvious and is already leading to new opportunities. Our company has done several wraps nationwide and our internal design staff told us they wished that every company was as professional and easy to work with as Signature Graphics.
Mike Seifert Jr. Seifert Construction, LLC in Jordan MN
I recently had Signature Graphics design a logo and partial wrap for my tool trailer. I have to admit I went in to my first meeting with Rob not knowing exactly what I wanted, or what the final result might be. I had little snippets of ideas and some themes I wanted to include. To my relief, this didn't matter one bit. Rob took the time to get to know me, my business, the values we put behind our work, and the personal touch we try to add to our jobs. I felt completely comfortable giving him free license to be creative with the design, and the result was absolutely fantastic. He created a design that really represented my company, and had just the right feel to it. The trailer looks great, and I couldn't ask for a better design and application. I will definitely work with Signature Graphics again!
Werner Design Werks St. Paul, MN
We are thrilled with our sign! As graphic designers, we were REALLY picky about getting the sign to look exactly as we had designed it. Rob and Mark worked hard at getting us what we wanted, and at a price we could afford. They were quick to respond to our questions and requests and got the sign installed in a very timely manner. And they were a pleasure to work with!
Jim L. Heltemes, Vice President Bargen Inc.
We at Bargen Inc. are extremely impressed with the professionalism of Rob at Signature Graphics. He had some great ideas for our trucks, and incorporated them seamlessly with our ideas to come up with a winning combination. We had our trucks only a week, and a person flagged us down to ask us about our product which resulted in getting a job from that contact. We received a 'best commercial vehicle' award at a parade we were in and we continually get compliments everywhere we go. Thanks again Rob for a job well done!
Pearson Florist Shakopee, MN
Wow! That's what I have to say about Signature Graphics. They came to our place – and LISTENED to what we were saying. When we got our delivery van back, it was everything we had hoped for – very striking and easy to read. Signature Graphics is excited about what they do and it shows!
This is my 2006 Newman snowmobile trailer. I go riding in Wyoming and I thought it would be cool to put some wildlife/mountain scenery on it. Within a couple of days Rob already had a design ready. The nice thing about vinyl is it's a lot clearer and more realistic than airbrushing. I'm really happy with the finished work at Signature Graphics.
Petsch Property Improvements, LLC
From designing a new logo to business cards to vehicle graphics, Rob made it real easy to work with him. Bouncing ideas off each other was a fun and refreshing experience. I would recommend Signature Graphics to anyone. I know that I'll be using them again. Thanks guys for all of your hard work!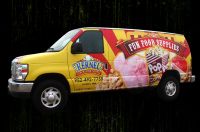 Peggy Eischens, Vice President Kernel Concession Supply
Rob & Mark are great to work with. When we relocated we needed lots of signs and lettering done. They work fast and stand behind what they provide. We would highly recommend them for all your graphic needs.
I wanted to make an impression with my vehicle. I gave Rob my logos and artwork and he provided this dynamic rolling billboard. It is definitely an attention-getter. I could not have imagined this by myself. Great job… It's perfect!